If you want to be in the know about what's going on with maternal mental health in Colorado, you've come to the right place.
2023 Colorado Perinatal Substance Use Disorder Integration Conference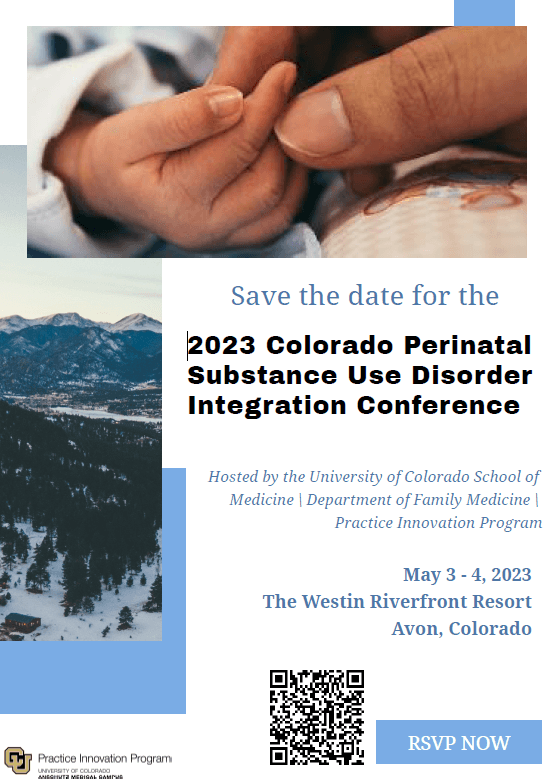 The Practice Innovation Program with the University of Colorado, Department of Family Medicine, welcomes you to register for the 2023 Colorado Perinatal SUD Integration Conference, May 3rd – May 4th, at the Westin Riverfront Resort in Avon, Colorado. The conference will highlight the work happening to integrate perinatal and substance use care for pregnant and parenting Coloradans. Some of the featured topics are harm reduction strategies, Peer Support Specialists and Doulas, information from the Colorado Department of Human Services Division of Child Welfare, among other excellent topics.
Register for the event at the link below. After you register you will receive a confirmation email. There is no registration fee and meals during the conference will be provided.
The link below will allow you to register for your hotel room. All attendees are responsible for covering all hotel costs, incidentals and travel. One note about the parking fee – the actual charge is $20 per room, per night. It is listed as $45 on the booking site.
Check-in date: Wednesday, May 3, 2023
Check-out date: Thursday, May 4, 2023
Conference registration opens May 3rd at 1:00 and opening remarks begin at 1:30. A detailed program agenda will be distributed in the coming weeks.
We hope you'll plan to join us for this exciting event!