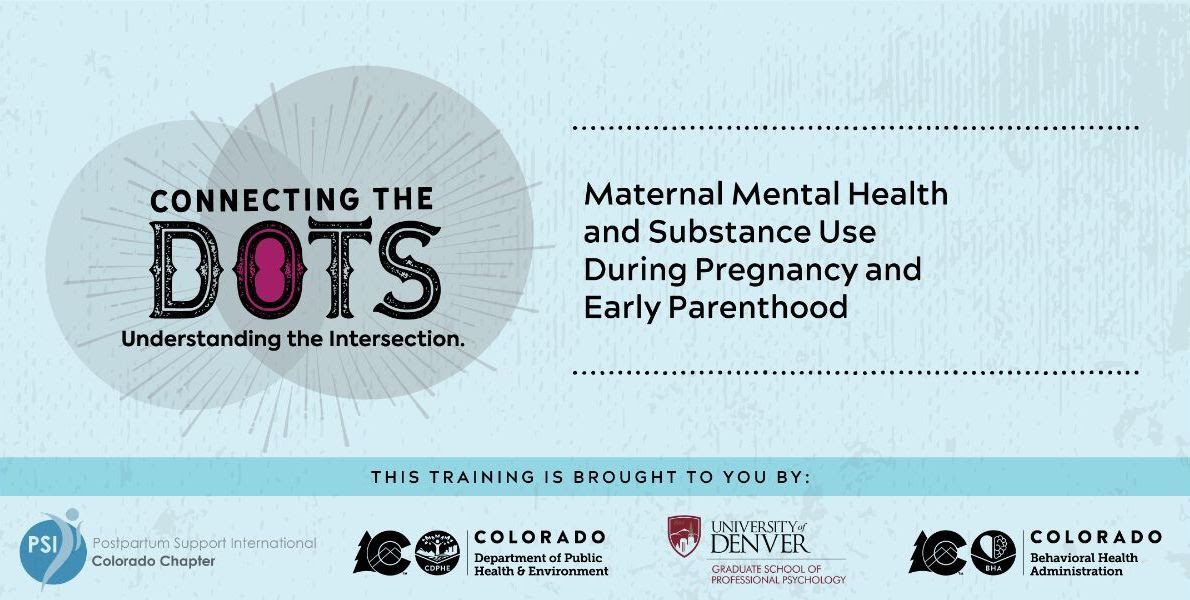 Who: You! (maternal mental health and allied health professionals)
What: Connecting the Dots: Maternal Mental Health and Substance Use During Pregnancy and Early Parenthood. This training is a collaborative effort of The University of Denver, CDPHE, the BHA, and Colorado PSI.
Why: Perinatal substance use is much more common than many of us realize, even amongst clients or patients you already treat. Substance misuse is a common coping strategy for people who are struggling with mental health conditions. Nationwide and in Colorado, suicide and accidental overdose are leading causes of maternal mortality. Women and those with the capacity for pregnancy are most at risk for developing a substance use disorder during their reproductive years, but many maternal/child health professionals feel uncomfortable and ill-equipped in knowing how to support a pregnant or parenting client who is struggling with substance use. Lack of screening, intervention and referral to appropriate treatment has enormous consequences for birthing people, their infants, and our communities. Together, we can ensure that every maternal health and allied health professional in Colorado is equipped with the data, knowledge and skill-set to recognize and effectively respond to substance use concerns during pregnancy, early parenthood, and with the birthing parent/child dyad.
When: March 2, 2023 (9am-2pm)
Where: CDPHE: 4300 Cherry Creek S Dr, Denver, CO 80246
Cost: ​​In lieu of a registration fee, we are requesting that participants make a suggested donation of $25 to the Colorado Chapter of Postpartum Support International for The Birth Squad: Denver program. After registering, please make a donation here: https://postpartum.app.neoncrm.com/forms/coloradochapter. We understand that costs can be a barrier to access and so we respect this if you are unable to make a donation.
*This training is capped at 75 participants—please register only if you are committed to attending.