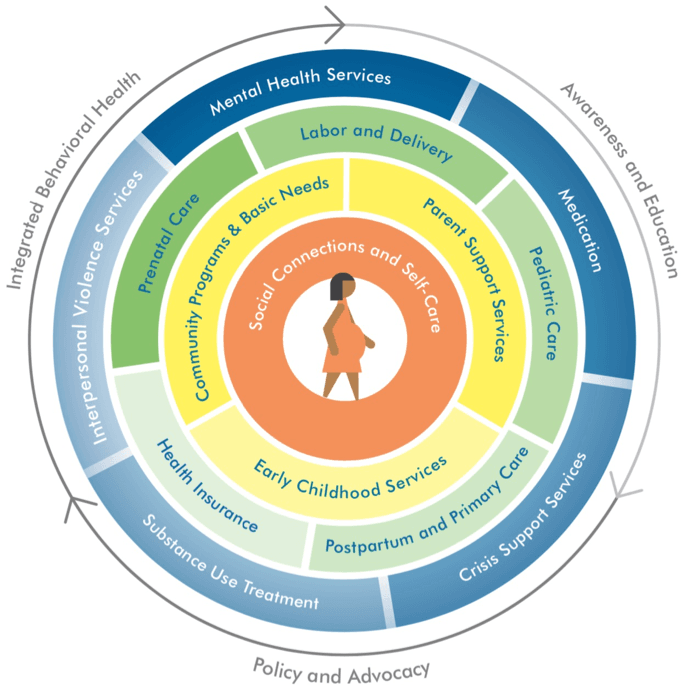 Social Connections and Self-Care
Taking care of a new baby can come with many challenges. When parents develop and utilize their social connections, they are better equipped to take care of their baby. Preparing parents to think about friends, neighbors, and family members who they can turn to when they need help is a great place to start. Encouraging and supporting parents to eat well, exercise, engage in activities they enjoy, and ask for help when needed promotes a healthy mind and healthy body. Social connection opportunities exist through faith-based organizations, social media networks, meet-up groups, community classes and gatherings, and many other places where people come together in our community. Parents Thrive Colorado includes wellness and self-care resources, as well as links to parenting groups and other opportunities for social connections.
Community Programs & Basic Needs
Many families are eligible for community and basic needs supports including WIC, SNAP, and Colorado Works (TANF). 211 Colorado connects families to social and community resources suited to their needs. Community-based services improve the quality of life for new families by increasing access to basic resources and cultural and recreational activities, such as museums, libraries, parks, and recreation centers. Parents Thrive Colorado helps families find programs and supports based on many factors including culture, identity, and where they are in their parenting journey. 
Parent Support Services
The transition to parenting a new baby can be stressful, and most parents benefit from support. Parent support may come from home visitation programs such as Nurse Family Partnership and Parents As Teachers, parenting groups such as MotherWise, or through foster care and adoption support services,. Parents can also get support through online platforms such Bright By Text and informally from family, friends, and neighbors. Services that provide parent support help to prevent mental health concerns and are well-positioned to provide education and connection to additional resources as needed. SafeCare Colorado is a support program for parents and caregivers with children ages five and under who need extra support to keep their families safe and healthy. 
Early Childhood Services
Most families utilize some form of child care within their child's first year. Local Early Childhood Councils support parents and child care providers in finding and creating high-quality child care options. Many early care and education programs, such as Head Start/Early Head Start offer family support and education opportunities in addition to child care. When parents or providers have concerns about developmental delays, Early Intervention provides developmental support for children ages 0-3. Early childhood providers have the opportunity to educate families, recognize concerns, and refer to other services when concerns arise.
Employers
Returning to work after welcoming a new baby can be a stressful time for new families. When families feel supported by their employer to return to the workplace, they are better equipped to handle this transition. Ensuring that families understand their benefits and how to access them, offering flexible scheduling options if available and sharing resources available in the community can be a great place to start. Becoming a Breastfeeding Friendly Workplace can show support for families' feeding decisions or offering families child care options ensures their children are safe and thriving while they return to work. Health Links provides additional resources to create a family-friendly workplace.
Prenatal Care
In Colorado, more than 90% of women receive some level of prenatal care. Visit schedules are frequent, and can be an opportune time for mental health screening and referral. In Metro-Denver, many prenatal care practices include integrated behavioral health specialists who offer mental health services within the context of a prenatal care visit, providing support for stress, sadness, worries and concerns, perinatal loss, and other mental health concerns. Encouraging parents to return for their postpartum visit and supporting their transition to primary care after delivery are also key to supporting perinatal mental health. 
Labor and Delivery
Hospitals, birth centers, home delivery providers, childbirth educators, doulas, and lactation consultants have the opportunity to educate expectant and new parents about mental health, provide guidance about self-care, and connect families with resources. For babies admitted to the NICU, the need for emotional support to families continues. Labor and Delivery and NICU providers must also be prepared to address perinatal loss.
Pediatric Care
Infants have the opportunity for well-child visits with pediatric providers at least six times in their first year of life, and families often prioritize these visits. Pediatric providers can educate, screen, and connect families to services. In Metro-Denver, many pediatric and family medicine practices include integrated behavioral health specialists who can provide mental health support within the context of a pediatric visit.
Postpartum and Primary Care
The postpartum period begins after delivery and ends when the mother's body has nearly returned to its pre-pregnant state. During this time, the mother experiences many changes, both emotionally and physically, all while adapting to life with a new baby or adjusting to a perinatal loss. The 6-week postpartum check is an important time to address physical and mental health concerns. The postpartum visit is typically the last visit with an obstetric provider for that pregnancy. For this reason, the postpartum visit should support a smooth transition to a primary care provider to address health needs after discharge from obstetric care.
Health Insurance
Families with health insurance are much more likely to access health services, which are essential in the perinatal period. Connect for Health Colorado is Colorado's official health insurance marketplace and a resource for families who may need financial help to reduce health insurance costs.
Mental Health Services
For families experiencing perinatal mental health concerns, a range of trauma-informed outpatient, intensive and inpatient mental health services are needed. Community Mental Health Centers and private providers offer outpatient care, and many also offer intensive outpatient and/or case management services. Several area hospitals offer inpatient services. Postpartum Support International offers regional  coordinators and an online provider directory to connect parents with mental health services that match their family's needs. Mental health services may be integrated into health care settings and even some WIC centers. 
Medication
There are mental health medication options that are safe and effective during pregnancy and lactation. Primary and prenatal care providers can prescribe medication. When needed, psychiatric services are available through Community Mental Health Centers and private practitioners. Postpartum Support International offers a Perinatal Psychiatric Consult Line, providing consultation to health providers within one business day. 
Crisis Support Services
Colorado Crisis Services offer immediate crisis intervention by telephone or text, 24/7. Crisis support includes information, referral and connections to other resources. Colorado Crisis providers are encouraged to complete training to support women and families during pregnancy and postpartum. Other important crisis resources include the National Suicide Hotline and the National Domestic Violence Hotline. PFLAG offers a summary of hotline services. 
Substance Use Treatment
For families experiencing alcohol or drug use problems, a range of community-based, outpatient, intensive, and residential services are needed, including specialized substance use disorder treatment (SUD). Gender-responsive and trauma-informed SUD treatment services, including medication-assisted treatment, such as Special Connections help people have healthier pregnancies and healthier babies by providing case management, individual and group counseling, and health education during pregnancy and postpartum. Specialized perinatal tobacco cessation services are available through the Colorado QuitLine and Baby & Me Tobacco Free, and resources on preventing secondhand smoke exposure can be found at Tobacco Free Colorado. The National Clinician Consultation Center offers free and confidential clinician consultation for healthcare providers through their Substance Use Warmline, a telephone resource dedicated to substance use evaluation and management.
Interpersonal Violence Services
Family well-being is dependent on safe, healthy relationships among family members. Parents who feel threatened physically or emotionally within their relationships are likely to experience emotional stress and mental health concerns. It is important for health and service providers to recognize and acknowledge symptoms of unhealthy relationships, help them know they are not alone or at fault, and refer to support services. Violence Free Colorado has created a county-based resource directory to help connect people to local domestic violence programs. Parents Thrive offers multiple resources on healthy relationships, including MotherWise Colorado, a counseling resource dedicated to individual and interpersonal empowerment. 
Integrated Behavioral Health
Integrated Behavioral Health is the systematic coordination of physical, behavioral, and psychosocial well-being. Integrating mental health approaches into other service sectors improves families' access to support and proves to be the most effective approach to health care across the lifespan.
Awareness and Education
Awareness and Education can be employed across all sectors to reduce stigma related to perinatal mental health and increase families' ability to recognize, prevent, and address perinatal mental health concerns.
Referral and Coordination
Referral and Coordination is the process of identifying family needs, being familiar with and aligning community resources, and coordinating with families and services to assure connection.
Policy and Advocacy
Policy and Advocacy is the process of identifying problems and potential solutions and communicating them with decision makers in a position to act.